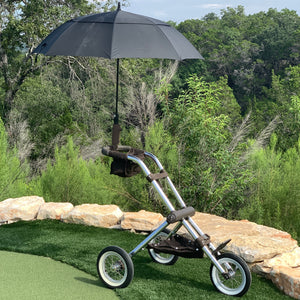 The all new Walker Trolley Umbrella Holder has been custom designed for use with the Walker Trolley Cape and Cape 1.5.  Features include:
Adjustable tilt angle both forwards and backwards
Removable spacers to increase or decrease the height of the umbrella canopy
Ability to accommodate umbrellas of all sizes
Strong design to hold umbrellas in windy conditions
Matching color ways with the Cape and Cape 1.5
Pretty good umbrella holder
Had the fortune of taking this guy out on a slightly breezy day, but needed it more for shade than anything else. At 6'0" I'm probably pretty close to the max height for the umbrella I have, which seems average. The attachment to the cart could maybe use some refining as the amount of play between the leather, foam, and plastic, has the umbrella swaying about 20 degrees either side of upright. I'm a little concerned about the plastic teeth that set the tilt angle, if those were made into a metal variant I'd have more confidence. All in all, pretty good, though still some room for refinement in fitment.
Umbrella holder review
Not really stable with a golf umbrella in it because it is plastic and don't believe it will last. Also the knobs to tighten it to handle and umbrella are too small to get a good grip! Very disappointing!!
Too much plastic
Too much plastic. The screws are hard to tighten. Metal in to plastic is never a good thing. The knobs shred my fingers. I had to tighten the knobs every hole, because the holder wouldn't stay in place. And, the umbrella was even a little loose. I might try a couple difft umbellas, starting with ones with thicker handles.
Still, kind of glad I have it considering I need it here in Florida with all the sun and rain
It's beautiful.
I haven't used it yet bc it's snowing, but I assembled it anyway and I'm staring at it dreaming of April. Sometimes you want to buy a cheap push cart for $150 so you have one, and sometimes you spent like $400 on the dopest push cart possible bc it's friggin sweet and there's nothing more dignified than walking 18 holes like the godfathers of golf intended.
Does not hold the umbrella securely
I paid full amount at its highest price and took 4months to receive the item, very responsive on replying shipping status though. Unfortunately, the c-clip is very weak and does not stay in place. The thumb screw pushed through the base pad and damaged the umbrella handle. Not able to use at all.
Thank you for your feedback and we have sent you a new umbrella holder. Very sorry for the issue you experienced and hope this helps fix the issue.